We're pleased to offer the following services at Bluestem Animal Clinic:
Therapy Laser: We are proud to offer the Companion therapy laser, one of the most flexible and powerful class IV lasers in the veterinary field. Laser therapy accelerates the body's natural healing process through photo-bio-modulation. The therapy laser is a sterile, pain-free, surgery-free, drug-free, FDA approved treatment used to treat a variety of injuries, wounds, fractures, neurologic conditions, numerous dermatological problems and pain.
Surgical Laser: Our routine and more complex surgeries are performed using a CO2 surgical laser rather than a traditional scalpel. The benefits to our patients are: Less pain, less swelling and bleeding; reduced risk of infection and often a quicker recovery time.
Wellness Exams: A regular physical exam is just as important for your pet as it is for you. Bluestem Animal Clinic recommends a complete nose-to-tail examination at least once a year, but more frequent visits are encouraged. Routine exams provide you and your veterinarian with an overall picture of health and help to identify potential medical concerns before they get out of hand. This also gives you an opportunity to ask the veterinarian questions about your pet's behavior and health.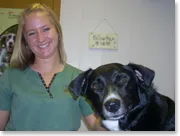 Boarding: When you are away, let your pet stay at Bluestem Animal Clinic, where we can provide you and your pet an affordable, safe and comfortable place for them to stay. Our boarding facility is climate controlled and includes separate boarding areas for cats and dogs. We also have covered outdoor runs to allow exercise and fresh air to keep you dog safe and protected.
We recommend you bring your pet's regular diet from home to minimize stress. If not, we will feed them Hill's Science Diet during their stay. We ask that you make a reservation in advance and require your pet to be current on vaccinations, and to have had an intestinal parasite screening within the last year.
Dental Care: Dental hygiene is an important aspect of your pet's overall health. Left untreated, many dental diseases can lead to more serious systemic problems. Many of these problems can be avoided by bringing your pet to Bluestem Animal Clinic for regular dental check-ups and teeth cleanings. Bad breath and/or reddened gums are the most common signs of dental disease in pets. Regularly brushing your pet's teeth, using dental treats, chews and rinses, as well as dental diets are recommended to help slow the progression of dental disease.

Our appointment book is computerized which allows us to efficiently make appointments for you and your pet. Our receptionists and team will attempt to accommodate all requests to the best of our ability. Emergencies are accepted anytime our clinic is open. If you feel you have an emergency with your pet, please call us or come to the hospital immediately. If possible it is best to call before coming in so that a staff member can advise you on your particular emergency.
We have a veterinarian and personnel on duty 6 days a week who are trained and equipped to handle any urgent care your pet has. Usually an emergency team consists of at least one veterinarian and several veterinary assistants working together to save a pet's life. If you ever feel that your pet needs emergency treatment do not hesitate to call or come in immediately. If possible it is best to call before coming in so that a team member can advise you on your particular emergency.
We are also available for urgent care when the condition is not life-threatening. If you feel your pet needs to be seen before you are able to get an appointment, our veterinarians will work to "squeeze" you in between scheduled appointments. When you arrive, our receptionists will be able to give you an estimate on how long you may have to wait in order to be seen.
Dogs
Cats
Rabbits*
Ferrets*
Pocket Pets*
Reptiles*
Birds*
*Select services only. Call us for more information.